On March 3, 2021, The Philadelphia Inquirer's feature The UpSide shared an update on Margaux Murphy, founder of The Sunday Love Project, written by Ronnie Polaneczky. Margaux was initially profiled in The UpSide on October 20, 2019.
Serving others has taught this house-cleaner that 'loving people isn't as hard as I thought it was'
One man told her, "You cannot have expectations of us because we're going to let you down every time." Her response: "I'm going to love people anyway, because somebody has to."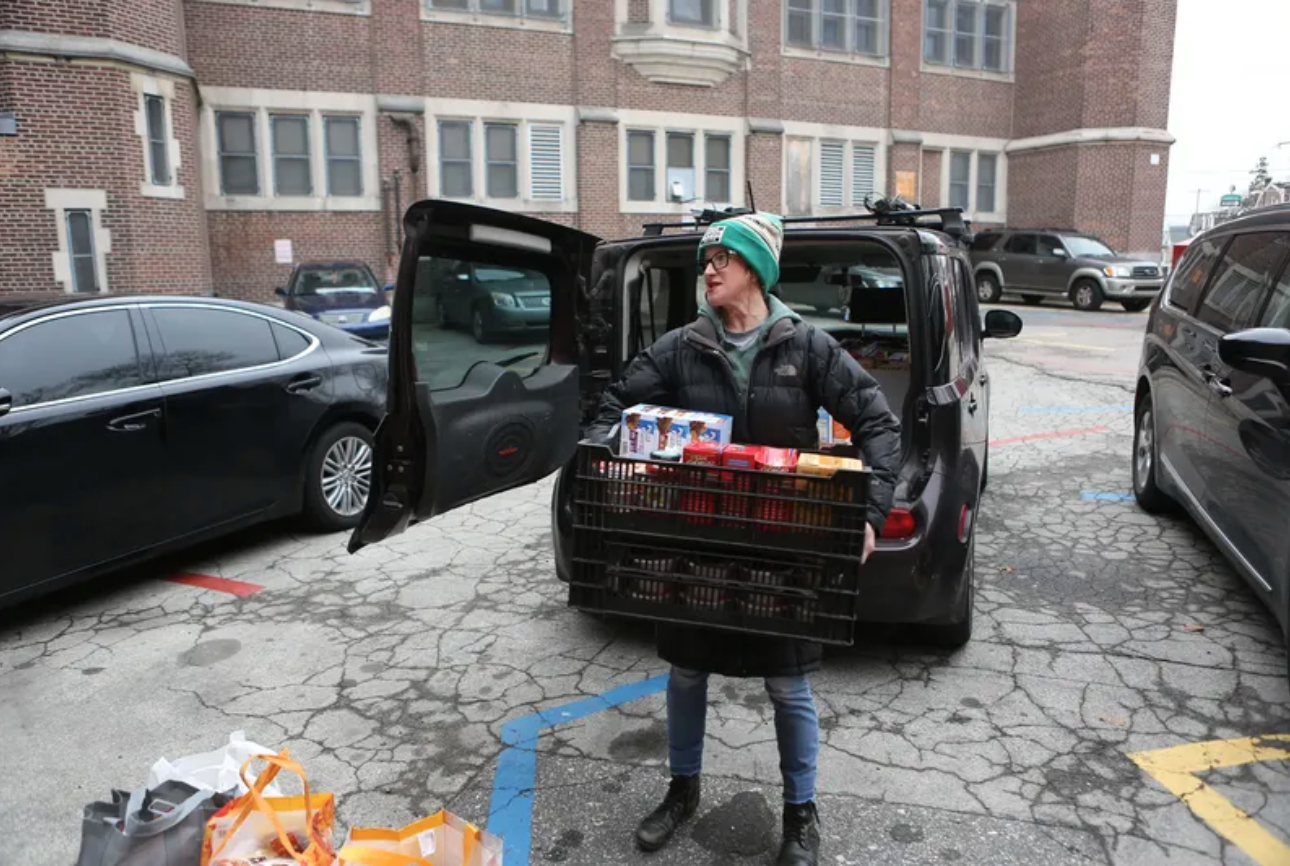 Margaux Murphy is one of the most generous people I know. Not just because she distributes food to homeless and hungry people in communities rife with addiction, hopelessness, and despair. But because she opens her heart, expecting nothing in return.
That ability didn't develop overnight, she said, but over time.
Murphy is founder of the nonprofit Sunday Love Project, which serves 2,000 meals each week to the hungry, on the streets and at Church of Holy Trinity at 19th and Walnut Streets. She's 44, single, supports herself by cleaning houses, is always wired and is mostly exhausted from the constant urgency of loving those whom so many have given up on. And yet, she said, after six years of Sunday Love, "I'm the most optimistic person. I'm going to do this for the rest of my life."
What has changed for you since founding SLP in 2014?
In the beginning, I was like, "Oh my God, we're going to feed people, then they're going to get better, then they're going to get jobs, and they're going to get clean, and everything is going to be so much easier for them." And it's just not the case. The same thing happens over and over: People go to jail, get released onto the street, get busted again, go running back to jail.
So you expected a certain kind of outcome…
Yeah. I had to lower the bar. Early on, one person told me — this is verbatim — "You cannot have expectations of us because we're going to let you down every time."
Was "lowering the bar" a form of acceptance — or resignation?
Acceptance. But it took a while. One woman told me that she received one of the first meals I ever gave out, on Christmas Day in 2014. She didn't know how she was gonna eat that day; she didn't even know it was Christmas. But the kindness stayed with her all this time. She's three years clean now and volunteers for us. When she told me, I broke down in tears. I realized an act of kindness is like a seed — it might grow into something good.
And if it doesn't?
I'm going to love people anyway, because somebody has to.
Has SLP changed your idea of what love is?
I think it's not as hard as I used to think it was. It's easy to love people without any expectation that it will be reciprocated. I can show people all kinds of love; that doesn't mean I'm gonna get a card from them on my birthday. One guy told me, "You know none of this is going to come back to you, right?" And I was like, "It's OK, because if you guys do something sort of negative in my direction — take advantage of my kindness or whatever — you have a higher power to answer to, whatever it may be." The Bible says, If not now, then when? When I close my eyes at night, I know I've showed people love they might not get anywhere else. And kindness.
What brings you joy?
Little things. I was just on Facebook and asked if anyone knew where we could get a meat slicer [to use for sandwich making]. Five seconds later my friend texts and says, "I found you a slicer. It'll be there Sunday." It's like any time I ask for something, it shows up tenfold. It shows how much people want to help. It brings me so much joy. I know we're having an impact not just on people we feed but on the people who contribute.
And that impact is what?
Building better human beings. Like, when people are hungry, I just don't know that it's a choice not to help. If this is not our problem, then whose problem is it? Kids get it. There's a 12-year-old boy who had been volunteering at Sunday Love and he told his mom he wanted to donate his bar mitzvah money to us. I was having a bad day and his mom said, "This will cheer you," and said her son was giving us $12,000. I couldn't believe it. Then, of course, other people say "I want to donate to Sunday Love but only to the homeless, not to drug addicts." And I'm like, well, then we don't need your money, because they're all people, actually. I'm not going to give to some and not to others. That's why that boy's bar mitzvah gift was so amazing: If we can show kids how easy it is to have compassion for other humans, they're gonna carry that with them into adulthood.
It sounds radical — putting love into the world with no expectation of where it should lead. It's an end in itself, a complete action.
It also can have a very real effect. We started a food pantry at Frankford High School and one student was so grateful. Because of the pantry, he said, he didn't have to stand on the corner and sling drugs because he had food to take home to his family. I was like, "Oh, of course. Why didn't I think of this before?"
Do you ever get overwhelmed by the constant need you encounter?
I can fall into funks. But I'm mostly the most optimistic person. I'm going to do this for the rest of my life. You know, my dad committed suicide three weeks before I graduated from college. So I learned young that life is fragile and short. So when I feel down, I try to remember that none of us knows how much time we have here. I don't want to be a depressed person or a sad person. I just want to be an impactful person.
Click here to read the original article.