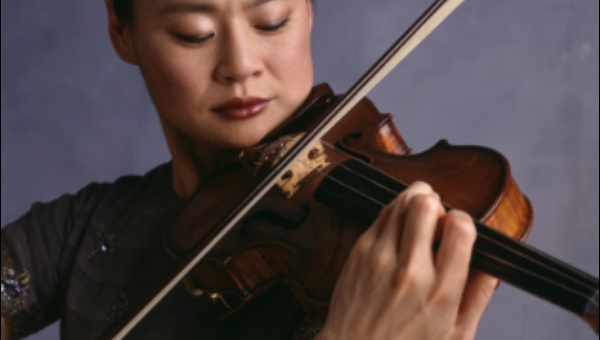 Join The College of Physicians of Philadelphia and Music For Food for an intimate, all-Bach solo violin concert by the legendary Midori. All proceeds benefit The Sunday Love Project whose mission is to share food among the homeless, while simultaneously building community. This concert is part of Music for Food, a musician-led initiative for local hunger relief.
Tickets are limited so register today! 100% of your donation goes to The Sunday Love Project, this year's beneficiary of Music for Food.
Click here for more information and to purchase tickets.
About Midori:
Midori is a visionary artist, activist, and educator who explores and builds connections between music and the human experience and breaks with traditional boundaries, which makes her one of the most outstanding violinists of our time.
Midori has performed with, among others, the London, Chicago, and San Francisco Symphony Orchestras, the Sinfonieorchester des Bayerischen Rundfunks, the Berlin and Vienna Philharmonics, and the Mahler Chamber Orchestra. She has collaborated with such outstanding musicians as Claudio Abbado, Emanuel Ax, Leonard Bernstein, Jonathan Biss, Constantinos Carydis, Christoph Eschenbach, Daniel Harding, Paavo Järvi, Mariss Jansons, Yo-Yo Ma, Susanna Mälkki, Joana Mallwitz, Antonello Manacorda, Zubin Mehta, Donald Runnicles, Jean-Yves Thibaudet, and Omer Meir Wellber.
As someone deeply committed to furthering humanitarian and educational goals, she has founded several non-profit organizations. Midori & Friends provides music programs for New York City youth and communities, and MUSIC SHARING, a Japan-based foundation, brings both western classical and Japanese music traditions into young lives in Japan and throughout Asia by presenting programs in schools, institutions, and hospitals. Through Partners in Performance (PiP), Midori co-presents chamber music concerts around the U.S., focusing on smaller communities that are outside the radius of major urban centers and have limited resources.
About Music For Food:
Music for Food is a musician-led initiative for local hunger relief. Its concerts raise resources and awareness in the fight against hunger, empowering musicians to use their artistry to further social justice. Music for Food believes both music and food are essential to human life and growth. Music has the power to call forth the best in humanity, inspiring awareness and action when artists and audiences work together to transform ineffable musical experiences into tangible and needed food resources. In 2010, inspired by Carol Rodland's Rochester-based "If Music be the Food…" food drive concerts, violist Kim Kashkashian launched Music for Food with a group of Boston-based musicians and guest artists. It has grown to include chapters in 16 U.S. cities, additional collaborative concerts across the nation, and a growing international presence. To date, Music for Food has supported over 1.5 million meals through donations made at concerts for nearly 100 hunger-relief organizations. For more information, go to www.musicforfood.net